Maritime and Environmental Safety are continuous precaution factors observed by every shipping companies around the world; any deviation of the latter two factor attribute accidental event which can be costly to ship owners, managers. charterers and insurance underwriting companies. In addition to monetary and lost of time, the international supply chain of cargoes can be adversely affected and ultimately contribute to economy loss to both consignee and consignor.
The provision of marine advisory services for deep draft vessel transitting the Malacca Straits and Singapore Straits is one of the important maritime safety solution provided by MPMC Marine.
MPMC Marine Advisory Services is meticulously designed in accordance to the provision of IMO Resolution A.858(20) Annex 1- Rules For Vessels Navigating Through The Straits of Malacca and Singapore which was enforced on the 1st December 1998.
MPMC Marine appreciate the importance of maritime and environmental safety to our valued customers who are ship managers or ship owners of deep draft vessels that transit the Straits of Malacca and Singapore, populary known as one of the busiest straits in the world. Today, MPMC maritime pilots were deployed onboard critical ship like the Very Large Crude Oil Carrier (VLCC) or Suezmax size tankers including any other ships that transits one of the businest straits in the world - the Straits of Malacca and Singapore. The present of our maritime pilots who possess years of experiences and familiar with the prevailing local conditions enhances the efficacy of the bridge team in conducting safe navigation, especially to avoid close quarter situation or collision with other vessels navigating through the straits.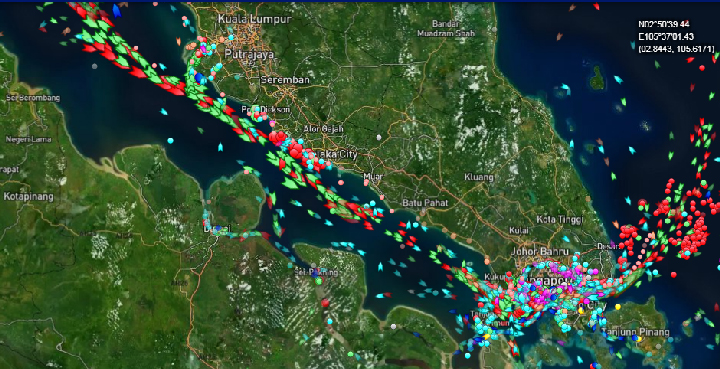 Maps Illustrating Ships Traffic Density at Straits of Malacca & Singapore
Our team of maritime pilots dedicated for the Straits of Malacca and Singapore Straits (SOMS) pilotage service comprises of selected ex-mariners with elongated years of experiences at sea who hold A Full Unrestricted pilotage license issued by the respective authorities. In addition, MPMC member of maritime pilots for the SOMS are exclusive registered professional members of Maritime Pilots Malaysia (MPM) which is the Malaysia's national organisation of maritime pilots focused primary on the professionalism of maritime pilots.
For any enquiry or booking, please email somspilot
mpmc.com.my